It's Wednesday and time for the funkie side of the design team to share our projects for the current challenge over at the Frilly and Funkie Challenge Blog!
The current challenge is hosted by Kathy (Kathy by design), who has chosen the theme YOU'VE GOT TO KNOW WHEN TO FOLD 'EM …KATHY says, "I'm a huge fan of folded paper! Whether it's a fancy fold card, a one sheet wonder, a rosette or other folded embellishment, folds equal fun! This challenge is all about using folded paper in a way that goes beyond just folding it in half. Create a vintage or shabby chic project that uses folded paper in a way that elevates the design. You can make a fancy fold card, or add folded embellishments to a card or layout. So get out those bone folders and start creasing!"
It took me so long to decide what do to for this challenge. My usual creative enthusiasm has been rather lackluster of late. Having just moved to Denmark 10 months ago, we are now having to move out of our apartment completely while they put new floors in. So I'm packing again, and honestly, I feel really tired!
Still, nothing like the lure of some distress oxides and a wink from my growing stash of distress crayons to get me back to my happy place.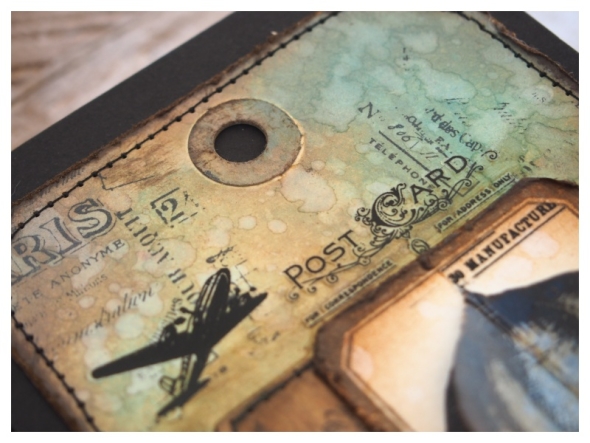 I started with those gorgeous distress oxides. I applied some to a manila tag with a mini blending tool. I spritzed with water and dried with a heat tool. I LOVE LOVE LOVE that you can build layers of colour without creating "MUD!"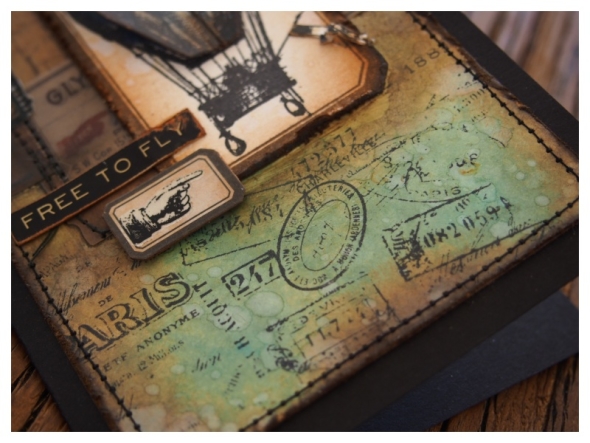 I used the postal marks stamp from the Tim Holtz Paris to London stamp set. Inked it up with black soot archival ink and stamped randomly onto the background without using a grid block.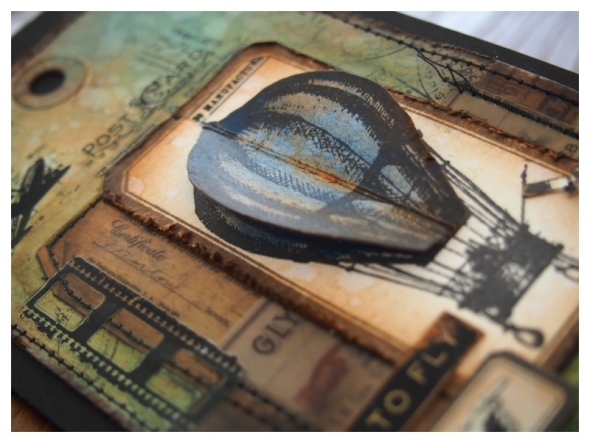 The fold in my card is the hot air balloon. I stamped the image twice, once onto a stamped label frame and the second image I cut the balloon out. I covered with collage medium and used faded jeans distress crayon to colour the balloon. I blended in vintage photo distress ink over the top to age. Using a bone folder, I scored a line down the center of the balloon. I ran a line of glossy accents on the back, just down the line and adhered over the top of the first stamped image. I also added a flag which I concertina folded and then adhered with glossy accents.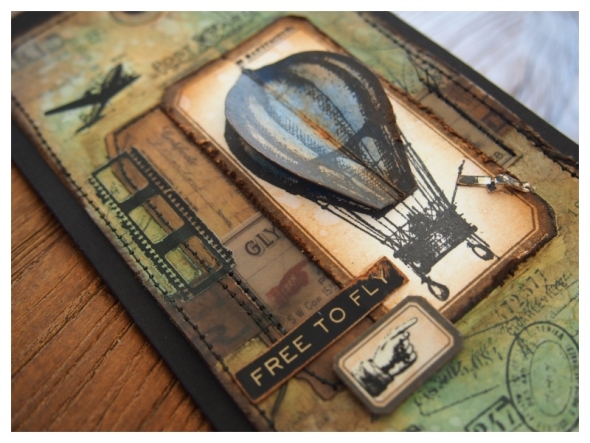 Next it was time to accessorise! I used Tim Holtz vellum ephemera which I attached with a dot of glossy accents and then stitched into place with my sewing machine. I overlaid with remnant rubs and a sticker from the new quotations metallic stickers. Once finished, I mounted onto a black cardstock.
I hope you will find time to join in the challenge and pop over to Frilly and Funkie challenge blog to see the rest of the DT's projects. All the products I used are available from The Funkie Junkie Boutique.
Thanks for stopping by.
Zoe