It's Wednesday and time for another challenge over at Frilly and Funkie Challenge Blog!
This challenge is hosted by Sue (Stamping Sue Style), who has chosen the theme GOING ROUND IN CIRCLES …SUE says, "Including circles in my projects is one of my favourite things to do, so for this challenge I want to see circles, lots of circles, not just one! Stencilled, stamped or even a circular project such as a wreath!"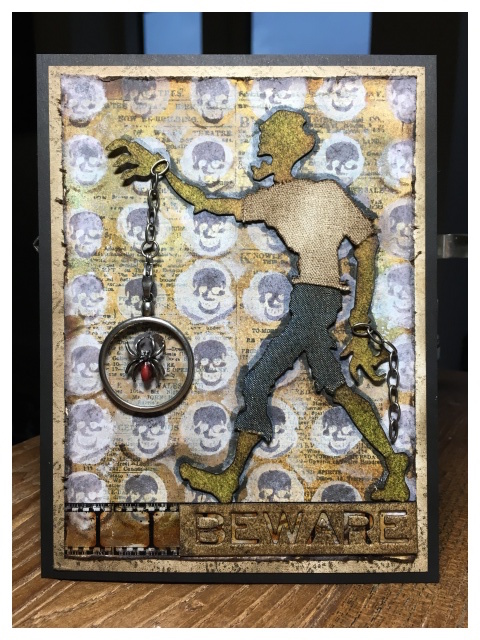 If you follow me on Instagram, you'll know that I've been unpacking my craft stash into it's new home. After a week of organizing, I was desperate to break open the lost zombie die that arrived last week.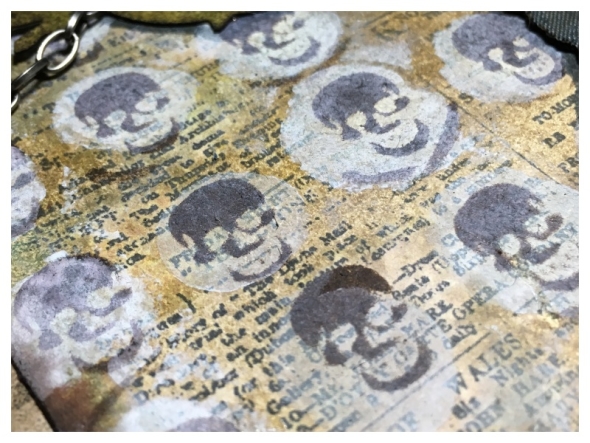 I created a background by stamping the newsprint stamp in black soot archival ink onto mixed media cardstock. Then swiping various distress inks onto a non stick craft sheet and spritzing with water and pressing the mixed media cardstcok into the inks. Once completely dry I blended frayed burlap distress ink over the top to mute the base colours and grunge it up. I placed the ringer stencil over the top and brushed white picket fence distress paint through the stencil with the dauber end. I have converted to the flip tops for my distress paints, but have a second bottle of picket fence, black soot and evergreen bough with dauber tops. Finally, blend ground espresso distress ink through the mini skull stencil. This stencil is SO COOL!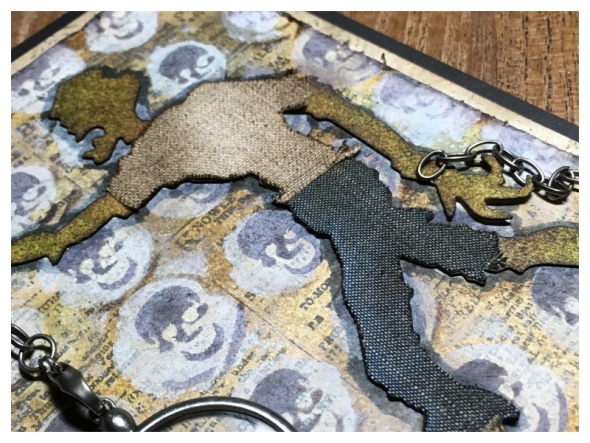 The lost zombie was cut from Tim Holtz white substrate sheet, (I'm finally coming round to the fact that the new substrate is awesome. In my mind, it replaced grungeboard and grungepaper and in all honesty, I've been holding a bit of a grudge….)! The substrate took the distress ink really well and gave a very cool mottled effect, but the clothes looked too washed out against the background. I had finished the card and turned all the lights off to go to bed when I had an idea and turned all the lights back on and went back to my desk, (a little fun insight into my creative madness)! I die cut clothes for my lost zombie from the textile surfaces, frayed a little and then blended with ground espresso distress ink to make dirty.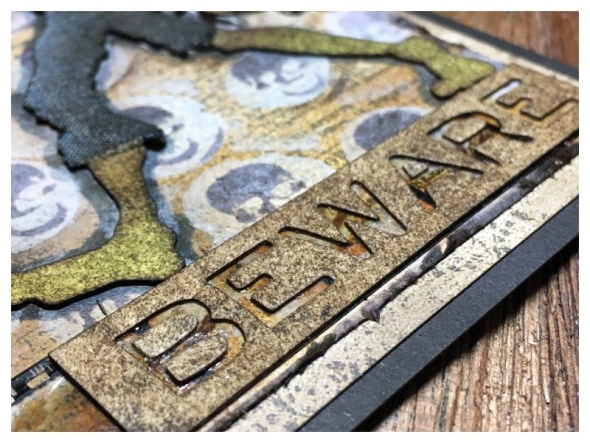 I die cut "beware" from the new Sizzix halloween word thinlits die set from substrate and mounted over the top of a piece of filmstrip.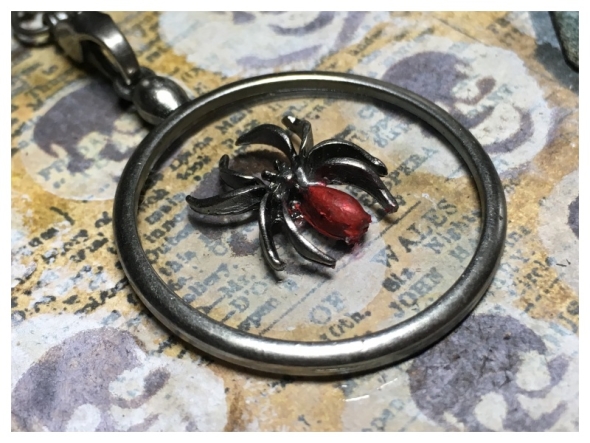 I wanted to include a circular embellishment to continue the challenge theme and this idea-ology adornment monocle seemed perfect. I snipped the loop off an adornment wicked spider with wire cutters and coloured the spiders back with a distress crayon. It amazes me what surfaces the distress crayons work with!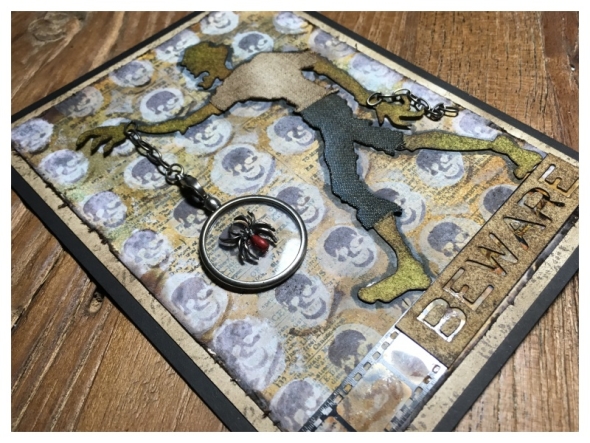 I added chains to the lost zombie to look as though he had broken free from somewhere and hung the spider monocle from his arm.
Thanks for stopping by, I hope you will find time to join in the challenge and pop over to Frilly and Funkie challenge blog to see the rest of the DT's projects. All the products I used are available from The Funkie Junkie Boutique.

Save