Hello friends. I'm back with my third project for the Tim Holtz inspiration series. Throughout November and December Tim will be sharing projects by a group of talented crafters to provide some inspiration to get you creative during the holiday season. Follow Tim on facebook and instagram and his blog for the recap each Saturday.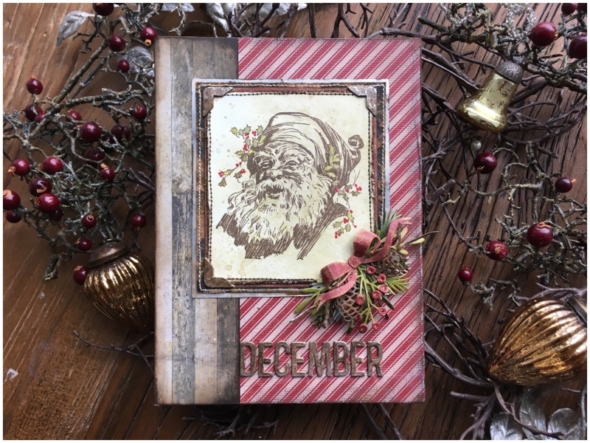 Today I'm bringing you a handmade album created using the new Tim Holtz seasonal products, to fill with handmade pages ready for the start of December Daily on December 1st.

Step 1: I cut three panels measuring 5.5 x 7.5 inches / 2 x 7.5 inches / 5.5 x 7.5 inches using card I recycled from idea-ology packaging.
Step 2: Adhere all 3 panels to the back of kraft stock from the Christmas kraft stock paper pad.
Step 3: Using a sanding grip, lightly sand the edges of all 2 panels and blend in walnut stain distress ink.
Step 4: Cut paper from the Christmas mini stash and stitch around the edges.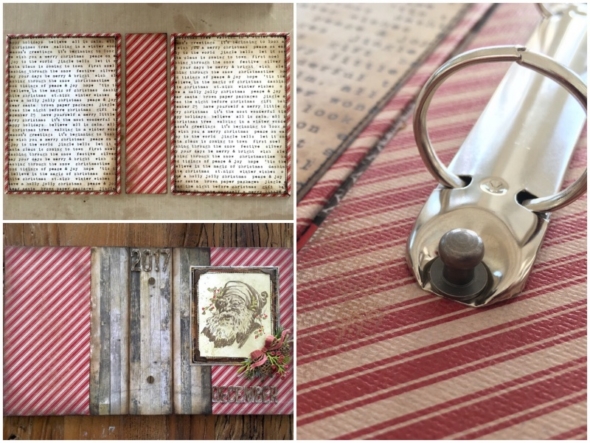 Step 5: Line up the 3 panels, making sure they are the correct way up, (especially if they have writing on like mine).
Step 6: Turn the panels over, leaving a small gap between each panel, and adhere paper cut to 5.5 x 7.5 inches. The paper will cover the spine and each book cover, overlapping by 1.75 inches.
Step 7: Add an idea-ology ring binder and fix into place using hitch fasteners.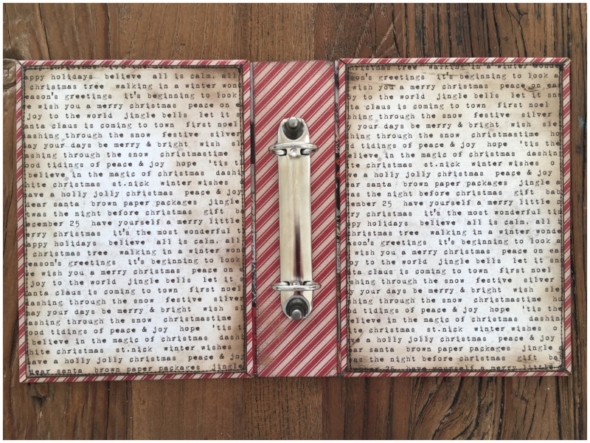 Step 8: Gently bend the cover into a closed position.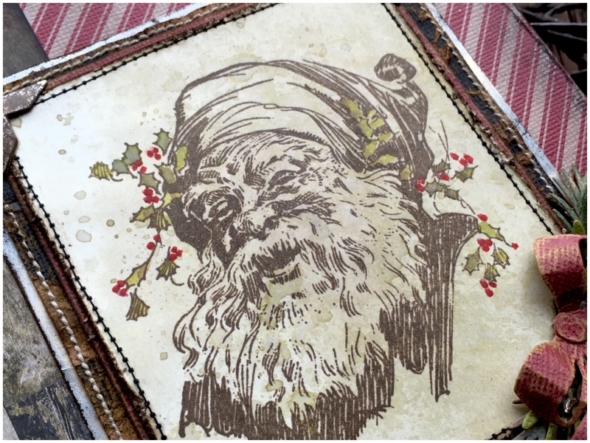 Step 9: Stamp the gorgeous vintage santa from the Stampers Anonymous Christmas Classic stamp set onto mixed media heavystock with ground espresso distress archival ink. Cover with frayed burlap distress ink wash. Using a water brush, paint the holly leaves with peeled paint distress oxide and the berries with candied apple distress paint.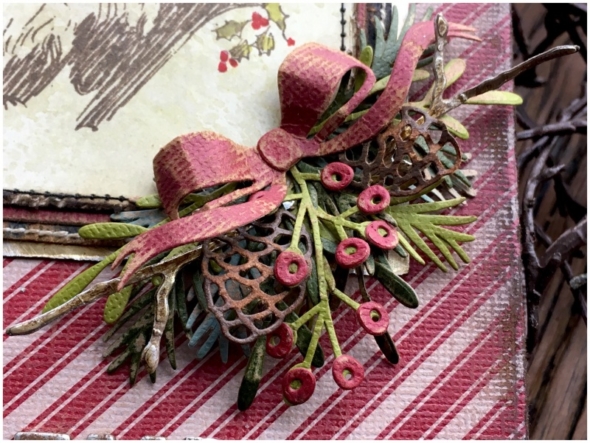 Step 10: Using the Sizzix Festive Greens thinlits set, die cut from classic kraft stock. Sand with a sanding grip and add a little vintage photo distress ink to the edges and sanded areas. Adhere with distress collage medium.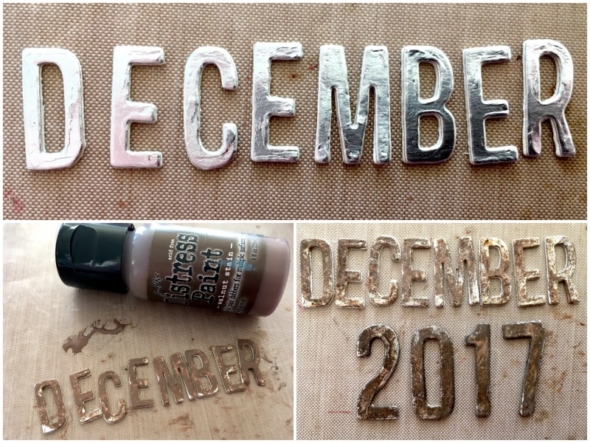 Step 11: Die cut "december" from the Sizzix Calendar Words Block thinlits set. Twice from distress mixed media heavystock and once from metallic kraft stock. Mount with the metallic die cut on top using distress collage medium.
Step 12: Dab walnut stain distress paint onto the letters with a finger.
Step 13: Once dry, tap a little vintage photo distress archival ink over the top. Rub gently to expose some of the metallic base.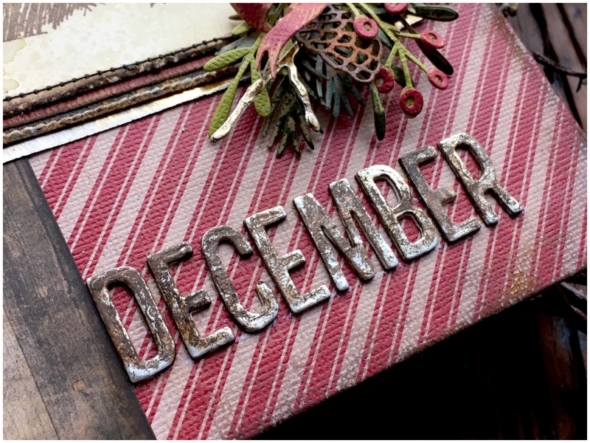 Step 14: Draw a chalk line and adhere the "december" onto the front cover, along the line, using distress collage medium. Once dry, gently erase the chalk line.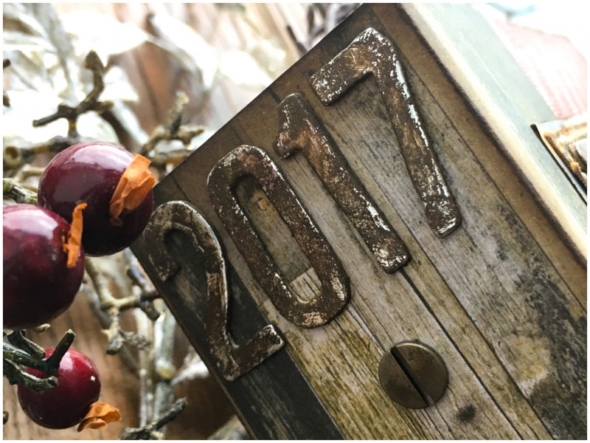 Step 15: Add the 2017 to the spine of the album with distress collage medium. Once the album is stored, it's an easy way to see which album is which. Making the cover has been so fun that I know I'll want to make another next year.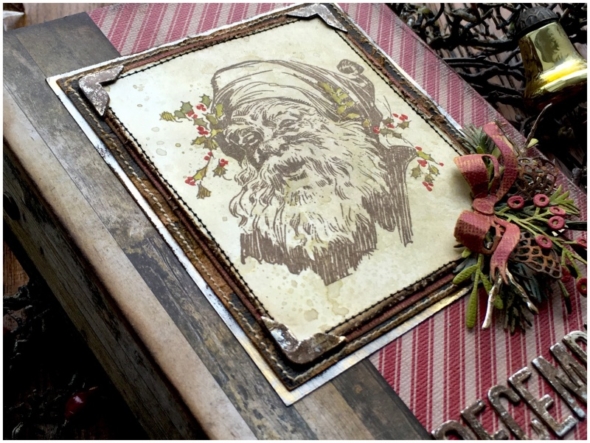 Thanks for stopping by, I hope this has inspired you to pull out your Tim Holtz holiday supplies and make something. Don't forget to catch up with all the projects from week 3 for more holiday inspiration. I'll be back next week with some holiday cards and pages from the inside of this album.
Have a great weekend!
Cheers
Zoe x