It's Wednesday and time for the funkie side of the design team to share our projects for the current challenge over at the Frilly and Funkie Challenge Blog!
The current challenge is hosted by fellow funkie team member Suzz (Suzz' Stamping Spot), who has chosen the theme 2018 – THE YEAR OF… …SUZZ says, "Welcome to a brand new year! I am not very good at New Year Resolutions but I do like to think about what I want to focus on in the New Year. To help me do this, I pick a word that is my word for the year and try to use that word to keep me focused on what is important. The challenge to you is to pick a word that will be your inspiration for 2018. Create a vintage or shabby chic project that includes your word of 2018. The word can be part of a sentiment, phrase or stand alone on your project as long as it is featured somewhere in your art."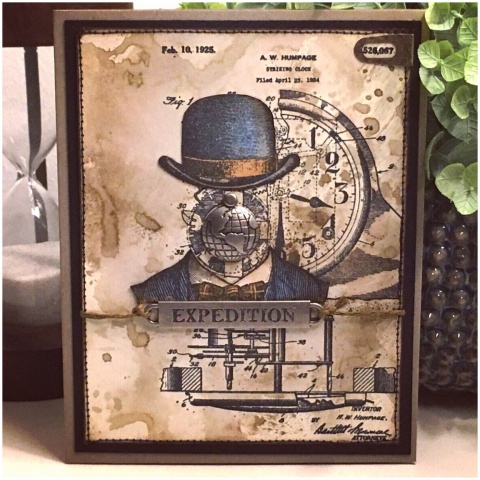 Much like our lovely host Suzz, I'm not very good at new years resolutions, so it took me a while to find a suitable word. I wanted to combine travel and time, as this year I plan to do more of one and get better at keeping the other. Then I stumbled upon the "expedition" word band and it was a match! Expedition can be a journey undertaken by a group of people with a particular purpose (travel) and it can also mean promptness or speed in doing something – promptitude (time). OMG I love that word! "Promptitude!" I digress, which only adds to my time keeping issues!
…I'm a work in progress…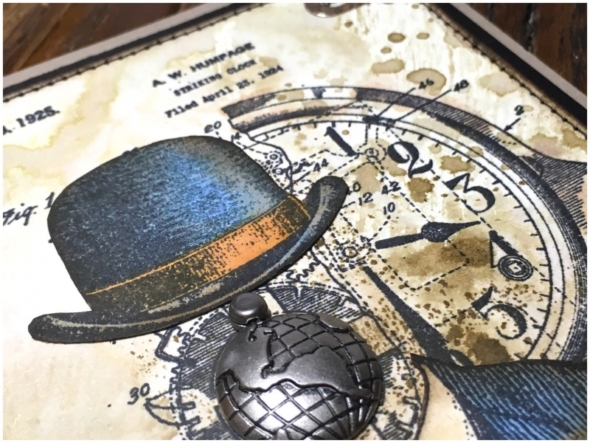 I have been desperate to use the new Tim Holtz inventor stamps and it was perfect for the challenge. I had to use my favourite stamp from the Tim Holtz Dapper set as well (of course)!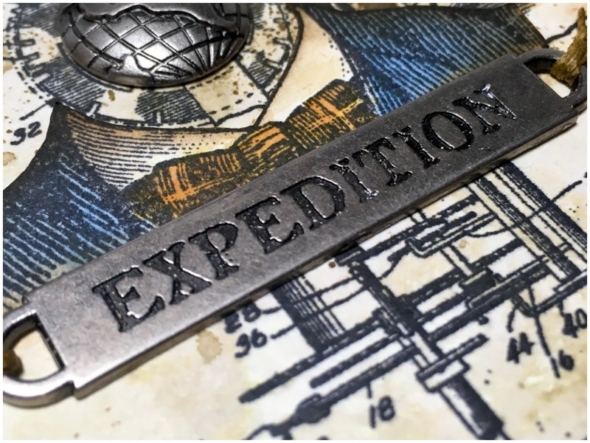 I used faded jeans and brushed corduroy distress inks and a waterbrush to watercolour the hat and suit. I added the expedition word band and globe from the adornment souvenir set.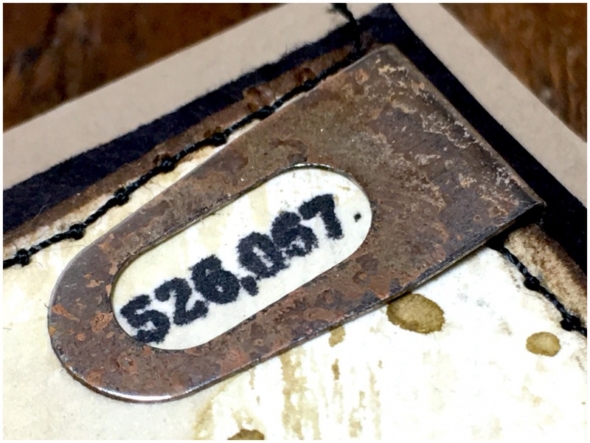 I confess I am a little addicted to these adornment index clips. I altered it by adding picket fence distress paint and, once dry, adding archival distress ink. Wendy Vecchi has this brilliant technique on her blog.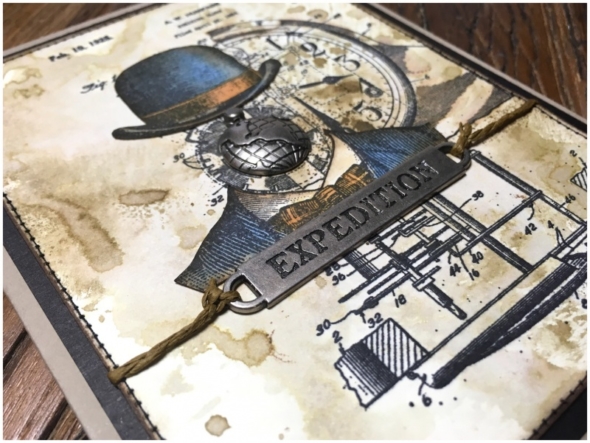 I hope you will find time to join in the challenge and pop over to Frilly and Funkie challenge blog to see the rest of the DT's projects. All the products I used are available from The Funkie Junkie Boutique.
I will be back to share the samples that I made for this years Creativation (CHA). Thanks for stopping by.
Zoe